Donate a PEP - Our Purple-Eyed Panda -
to Brighten Someone's Life!
We are currently working with hospitals and scheduling events to share some PANDA ON! Love and Encouragement with families who have children battling illness. You are invited to participate. If you are interested in being a part of this awesome PANDA ON! Project, please click the Donate a PEP button below. The more donors we get, the more visits we can make and the more smiles we can see.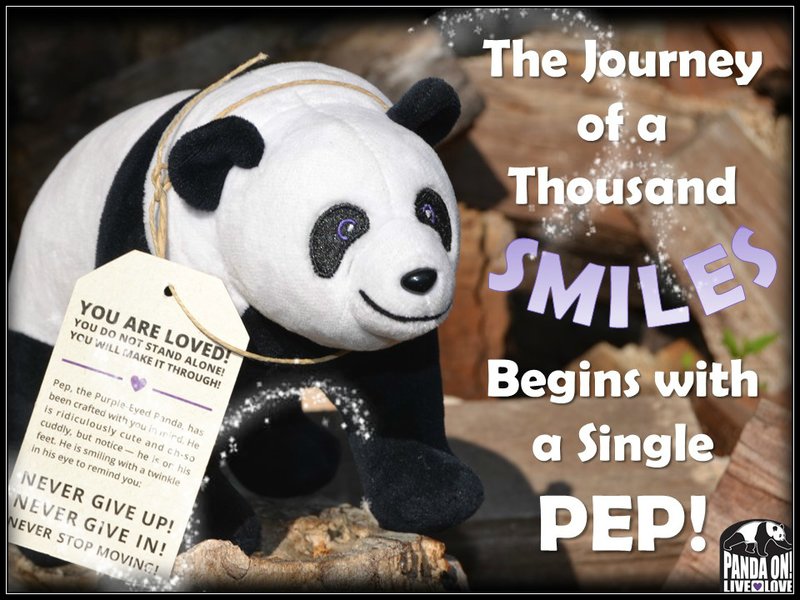 Every time someone donates a PEP, we march directly to our Panda Zoo and choose a very lucky PEP to go into a very special box. These special PEPs await their arrival to their new families. These PEPs are given to the children we are fortunate to encounter on our PANDA ON! Journey. These encounters are documented on our Facebook page, our website and our PANDA ON! Community Newsletter.
If you'd like to keep track of all we are doing, please sign up for our PANDA ON! Community Newsletter. We will keep you informed of all the love we are giving away. But, we wouldn't be able to do it without you! Thank you for your Love and for your Generosity!
Sign up for our newsletter if you haven't. After all, you are a special member of our PANDA ON! Community.
Thank you for your support! Forever PANDA ON! Dear Friend!
---
A portion of all proceeds goes to help families with children fighting illness.